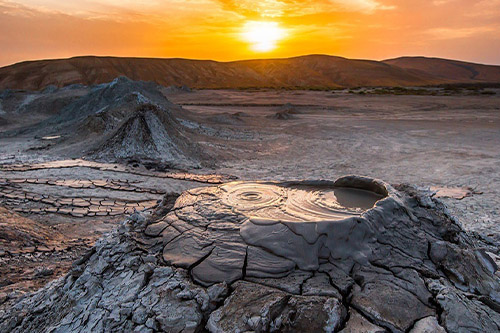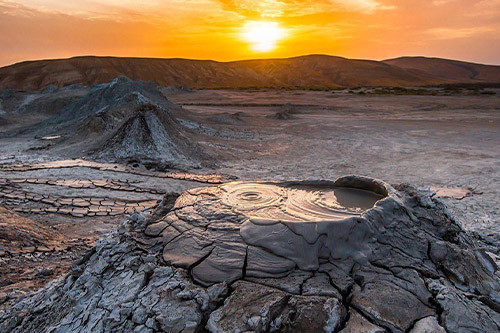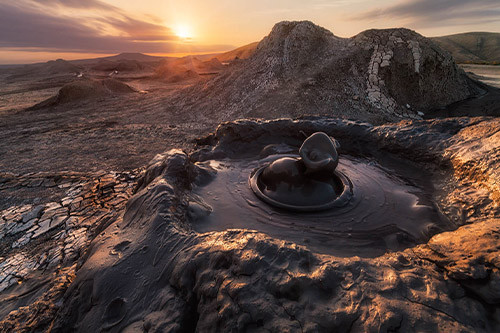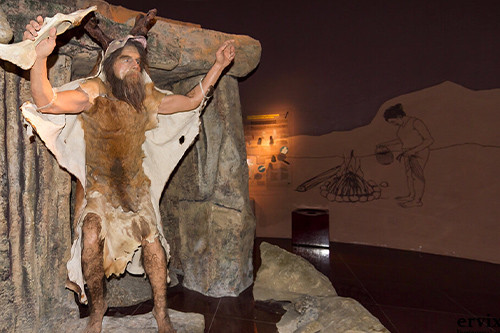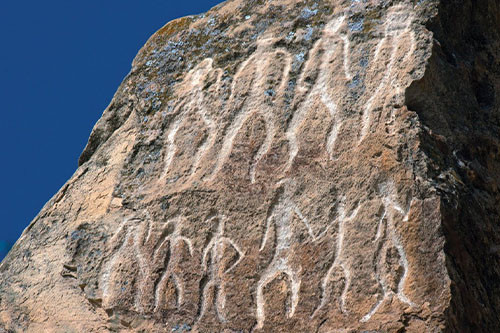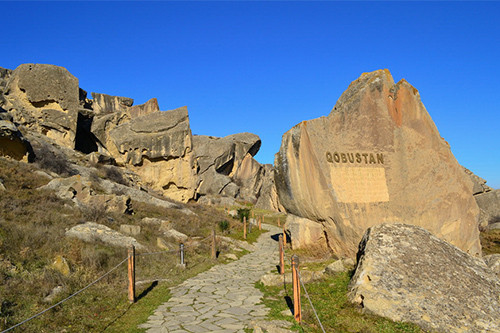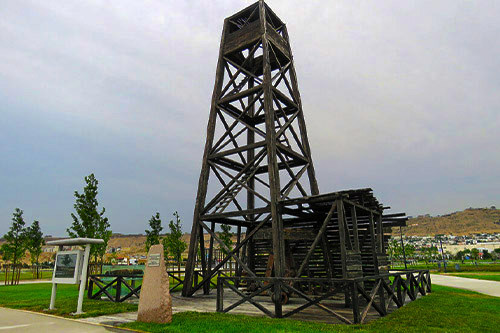 Discover the ancient wonders of Gobustan on an unforgettable tour. Immerse yourself in the rich history and cultural heritage of Azerbaijan as you explore the renowned Gobustan State Historical and Cultural Reserve. Marvel at the captivating rock engravings dating back thousands of years, depicting scenes of prehistoric life. Witness the fascinating mud volcanoes that dot the landscape, adding a unique geological element to your adventure. Embark on a journey through time and nature, combining archaeology, art, and natural phenomena in one extraordinary tour of Gobustan and its mesmerizing mud volcanoes.
On the way to Gobustan, you will see whole jungle of oil rigs, which provided the USSR with black gold for more than 70 years. This is the district of Baku where the scene of the nineteenth film of the bondiana was shot "And the whole world is not enough" This is the very scene where Bond first appears in Azerbaijan and drives his BMW Z8 near the oil rigs in the village of Bibi-Heybat. The large oil pipeline being built in the film, which is being laid to deliver Caspian oil to the West - through Azerbaijan, Georgia and Turkey, actually exists.
The first stop of the tour will be the Gobustan National Reserve, famous for its rocky landscapes, where the stories told by our professional guides will take you to thousands years ago. During the tour you will have an opportunity to visit the Gobustan National Museum and see unique exhibits that have reached us through the millennium of history.
After visiting the indoor museum, you will be taken to the open-air museum, where with your professional guide you will discover the mysterious world of petroglyphs - rock paintings and inscriptions of both ancient people and the legionaries of the Roman emperor Domitian.
In good weather conditions, this package also includes an exciting trip to the mud volcanoes. More than 300 out of 700 mud volcanoes, which by origin are associated with oil and gas fields, are located in the Republic of Azerbaijan. In areas of mud volcanoes, you can see gas condensate and oil fields.
Also, during our tour we will go to the first oil well drilled in Azerbaijan, and indeed in the world in general. It was drilled in 1846 in the village of Bibi-Heybat near Baku. The depth of the well was 21 meters. It was drilled by percussion using wooden rods. On July 14, 1848, the first oil was produced from the well. This is a true public asset that allowed oil production to take a huge step forward towards the world we see today.
At the end of the tour you will have lunch in the picturesque restaurant, which includes green kutab, meat kutab, kebabs of assorted lamb, lula, chicken, vegetables, pilaf, choban-salad, soft drinks.
Tour Category: Day Trips
Minimum number of people: 1
Start Time: 09:00 AM
Duration: 5 hours
Included: Professional English speaking guide, transfer from your hotel, comfortable vehicle with seat belts and air conditioners, entrance tickets to museums (Gobustan State Museum and Open Air Museum), additional transfer to mud volcanoes, lunch.
Excluded: Personal expenses, return transfer to the hotel.
Note: This tour will finish at the Puppet Theatre in the center of Baku. For guests staying in the Old Town, the pick-up point is in front of the Double Gates of the Old City. You can also replace meals during the tour on the vegetarian menu by prior warning. Meals or drinks not specified in the menu can be ordered for an additional fee