Caspian sturgeon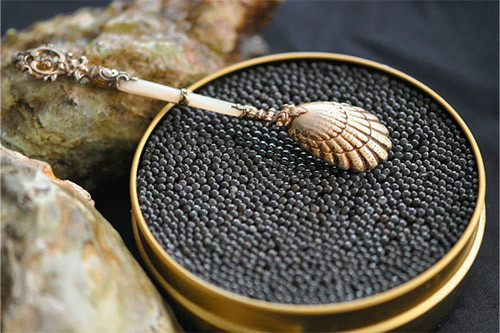 A favorable environment has been created in the water of the Caspian Sea for a specific flora due to special chemical composition, which is the optimal form of nutrition for small fish such as gobies or sprats. And these types of fish are the best food for sturgeon, most valuable fish breed in the world.
The Caspian Sea is the world's largest habitat for populations of such sturgeon species as beluga and sevryuga (about 90%). Moreover, we are talking not only about fish grown in special coastal farms, but also about wild sturgeon.
Black caviar
Pure protein, flavored with fish oil, with a unique nutty flavor and an unobtrusive aroma of seafood – it's delicious, refined, expensive, elite. Glossy black gold pellets laid out in crystal vases have always been a sign of the highest class at any social dinner. Crispy wheat toast, thinly spread with butter with a layer of black caviar laid on it.
Now Azerbaijan is no exception, and, as in other countries of the world, caviar costs very serious money here. However, sometimes you can please yourself with this gastronomic jewel. Therefore, perhaps the most expensive and useful delicacy in the world, BLACK CAVIAR of BELUGA caught in the Caspian Sea is one of the most famous Azerbaijani products that we eat ourselves and export.
Black caviar is part of the cultural heritage of Azerbaijan and cannot be exported abroad for personal use weighing more than 200 grams.
Sturgeon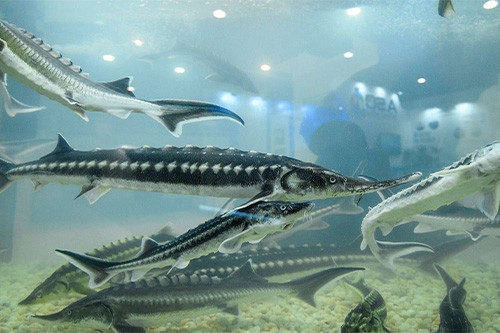 Sturgeon has always been a source of meat, fish oil of the highest quality and, of course, one of the most valuable delicacies – black caviar. Sturgeon is rich in protein and remains one of the most useful and delicious meat varieties.
Despite of high price, sturgeon is the main character of the national feast. Azerbaijanis are sophisticated gastronomists and highly appreciate the quality of noble fish. Thick stews, fragrant shish kebab or cold-smoked balyk are not only a full stomach, but also an aesthetic feast for a gourmet who prefers not just delicious, but refined food. By the way, "balyk" is a Turkish word that translates as "fish".
The almost complete absence of bones makes sturgeon pleasant and convenient to use. Even children, who have always been repelled by the abundance of sharp bones from fish, eat sturgeon meat with pleasure and ask for more.
Cooking sturgeon is simple. A minimum of seasonings, a minimum of culinary delights – this meat is exquisite in itself, and the less you touch it, the tastier it turns out. The only secret is that the cutting of fish should always begin with the removal of the chordal rod. It collects toxins that can spoil the taste or even poison the meat.
Sturgeon is a protein food, but with a fairly high proportion of fat. Therefore, sturgeon dishes are served with sour, thick pomegranate sauce "narsharab", which competently shades the taste and neutralizes the negative effect of fat on the body.
Omega-3 fatty acids
Increased sugar intake creates a high risk of a decrease in the level of immunity and metabolism. This is due to fructose, which is converted into sugar in our body, and fructose is a poison. It is impossible to neutralize the effect of fructose, but it can be balanced by Omega-3 fatty acids.
The highest percentage of this useful chemical compound is found in fish oil. Sturgeon fat is the easiest to digest.
Representatives of Azerbaijan Travel International, which organizes tours to Azerbaijan for you, will always be happy to tell guests the best places where you can buy or taste black caviar. And we can also introduce you to popular fish restaurants, where guests of the country will taste its most famous product on the shore of Caspian Sea.
Tags: Caspian sea , Caspian sturgeon , Specific flora , Black cavair Beluga , Protein , Omega 3 fatty acids , Narsharab