Khinalug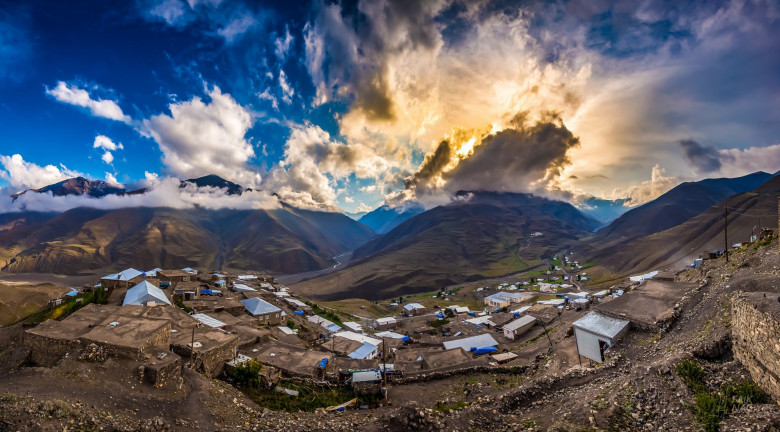 Khinalig is an ancient Caucasian village dating back to the Caucasian Albanian period. It is located north of Guba, in the midst of the mountains of the Greater Caucasus, which divide Russia and the South Caucasus, at an altitude of 2100-2200 meters above sea level over the Kudialchay River. Famous for its language, peculiar customs and traditions. Today, about two thousand people live in Khinalig. Almost the entire population is indigenous. In Khinalig retain their language for more than 4000 years.
Khinalig is the highest and most remote and isolated village in Azerbaijan and one of the highest in the Caucasus. The location is hard to reach, the village is located on the slope of Mount Kizilkaaya on the northern slope of the Northern Caucasus Ridge, opposite the mountain bearing the same name – Khinalig. The weather changes sharply during the summer and winter, in the range from −20 ° C to 18 ° C. The village attracts tourists and travelers with its inaccessibility, a peculiar language, unique architectural appearance and culture. Here you can find the Temple of Fire-worshipers, the Tomb of Khidir Nebi, the mosques of Sheikh Shalbuz, Abu Muslim, caves and numerous unexplored archaeological sites belonging to the Middle Ages.
Most of the territory is occupied by subalpine and alpine meadows. An asphalt road leads to Khinalig from the district center of Guba. There is a frontier post and one of the entrances to the Shahdag National Park. The entire mountainous area around Khinalig is the Shahdag National Park.
Tags: Greater Caucasus , Caucasian village , Albanian period , Kudialchay river , Temple of fire worshippers , Shahdag National park , Khinalug , Khinalig , Tomb