Mardakan Fortress
visibility 1482 comment 0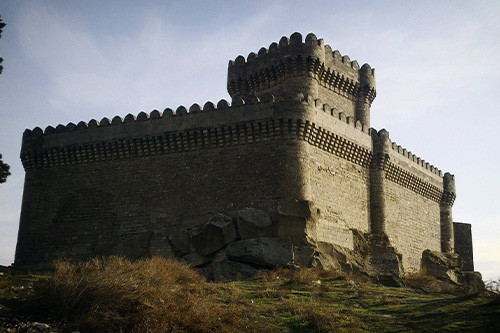 The Mardakan Tower is the historical and architectural monument which is located in Baku's village, the Village of Mardakan. It's also well known as the Quadrangular Mardakan tower because of its shape. It can not be considered big but it is clearly one of the most noticeable towers on the territory of Mardakan.
It has been standing strong for more than eight hundred years and the history of its construction is pretty interesting. In 1187, Shirvanshah (the title of the rulers of Shirvan) Akhsitan I won the battle against his enemies and has decided to strengthen defenses of his country. Akhsitan's name and the date 1187 were also engraved on the walls of the Mardakan Tower itself. The heir to the Kesranid dynasty wanted to perpetuate his victory over the enemy. His other famous construction is the Maiden Tower, even though some scientists think he only did a restoration of it.
Back in the days of need, The Mardakan Tower was used by feudal lords as a refuge and observation post. In middle centuries, the tower was also a shelter. Some legends say, that there are underground paths under this castle and some other towers all around Absheron that connect them together.
There's one singular tower and its height reaches over 22 meters which was really convenient for people who were defending the Mardakan tower against the intruders. This one tower is divided into 5 different floors and consists of 6 rooms. On each floor you can see an open space hollowed out in the walls for torches and candles.
The thickness of the walls at the base is 2.10 meters, and above - 1.6 meters. Around the tower there's a big stone wall protecting the inside courtyard. Along the stone wall you can see 4 semicircular towers which not only brought out its architectural traits and bolstered their durability, leading to an increase in the building's height but also improving the organization of the tower wall's defense. The yard area is 28x25 meters and inside the yard you can see 108 wells which were used centuries ago to storage food. The depth of biggest well of the Mardakan Tower reaches 25 meters and it's suited right at the entrance of the castle.
All and all, the Mardakan Tower is a beautiful piece of architecture carrying centuries and decades of history within its walls. The cultural impact of it is not only already big, but also not even fully discovered, even though it has the great potential to surprise not only the archaeologists but interested tourists too.
Tags: Baku , Mardakan Fortress , Mardakan Tower