The First Oriental Opera
The first oriental opera Leyli and Majnun was composed by Uzeyir Hajibeyov in 1908.
Word – is a blossom of human's thought brought to life and laced with newfound knowledge and outlived feelings. A man says and writes what his soul and being consist of.
Azerbaijani written literature covers the period of time from XII century and till today. It is well-known all over the world thanks to distinguished poets and men of letters who made an invaluable contribution to its development.
Immortal works of Nizami Ganjavi, Imadeddin Nasimi, Khatai Tebrizi, Shah Ismael I written under the name of Khatai, Muhammad Fizuli, Mehseti Ganjavi, Tajli-Beyim, Khurshudbanu Natavan and other countless talented figures of an sophisticated expression fill our hearts with inspiration and help us to cognize the beauty of human soul.
Before embarking on the description of the first opera in the East and Islamic World, it is necessary to note the authors of the works which led a libretto to its (opera's) script. In 1188, in the age of forty seven, Nizami Ganjavi (1141 – 1209) wrote one of the five poems of his "Khamsa" ("Pentalogue"), in which virginal love between a young man named Geis and lass named Leyli was described.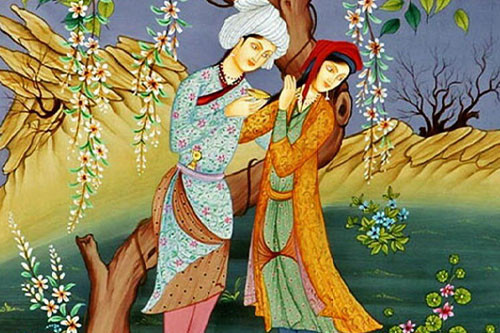 Due to the passage of three and a half centuries, in 1536, Muhammed Fizuli (1494 – 1556) brought a fresh perspective on creation of his predecessor and added stanzas and nature depiction by rewriting the poem. The main difference between two works was the language of these poems: Nizami Ganjavi wrote it in dominant language of that period – Persian, while Muhammad Fizuli described the acts of Arabic legend in Azerbaijani, thereby leaving priceless heritage as to literature as to Azerbaijani people.
As mentioned above, the work itself was based on an Arabic legend, told about the fate of two lovers. In the interpretation of Ganjavi and Fizuli, Leyli and Geis fell in love with each other in school. Geis, ignited by gentle feelings to beauty Leyli, became a crazed that is why he was called Majnun soon (Majnun means "demented", "madman"). Leyli was forced to get married with Ibn-Salam by her parents. Majnun's father had asked for Leyli's hand in marriage for his son. But the reason of the rejection was the act against patriarchy of tribalism in Nizami's work and madness of Majnun in Fizuli's. Majnun began to wander among the sands of the deserts after Leyli's marriage. He did not accept any care from his relatives and beloved ones.
Detailed description of the desert dominates in Fizuli's piece, while Ganjavi tries to express sentimental values of the characters. Later Leyli went from wife to widow and died. Majnun was found dead near Leyli's grave after her passing. Both writers gave the description of the resurrection of love upon heroes' falling into afterlife.
The opera "Leyli and Majnun" unites initial constituents by Nizami and a fresh breath in the form of added poems and nature depiction by Fizuli, showing the importance of both originators. That was the idea which Uzeir Hajibeyov pursued while working to compose the opera. Uzeir Hajibeyov was born in 1885, in Agjabedi. Khurshudbanu Natavan was one of the most important persons in Uzeir's life: she provided an opportunity to attend meetings in Shusha, to be taught mugham mastery during his growing up. From a young age Uzeir could play the Azerbaijani national instruments, after a while learned how to play the violin, violoncello and other brass instruments.
After finishing his study at the medrese and Russian-tatarian school in 1904, he taught in several schools in different periods of time. He worked as a newspaper editor, in 1925 was elected as a member of Baku Council, led orchestras, consisted in the CPSU Central Committee. He could to pitch in the prosperity of Azerbaijani musical creativity he put the part of his soul into every piece. This had an impact on the mugham operas such as "Rustam and Zokhrab", "Asli and Kerem", on the opera "Keroglu", on the operettas like "If not this one then another", "Arshin mal alan" as well as on the birth of Azerbaijani hymn in 1918.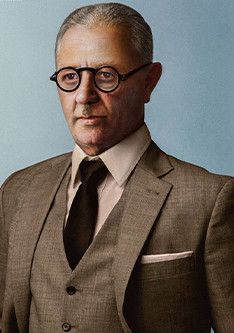 As remembered a great composer, he was inspired by scene "Majnun near Leyli's grave" in his hometown named Shusha. The opera which was consisted of 6 acts was based on the Azerbaijani folk oeuvre – mugham. The first opera in the East and Islamic World took place on 25 January 1908. The hall of Haji Zeinalabdin Tagiyev theatre was full of standing ovation and enthusiastic exclamations. Uzeir bey Hajibeyov became a founder of professional experience while an opera itself became the reason of the Azerbaijani classic musical culture birth. The opera was accepted with enormous encouragement as intelligence of Baku as common people – that was an unbelievable success – he could create an endless energy of oeuvre and talent which attracted everyone!
Nowadays, Azerbaijani people honour remembrance of a great composer of XX century, Uzeir Hajibeyov, who brought to life the written masterpiece not only of Eastern but also of world literature on the stage. School walls, main halls of universities, streets and squares, underground passages and walls of Baku metro – all of the mentioned constituents of city are full of memory and homage to the creativity of one of the most talented and unforgettable personality of Azerbaijan – Uzeir bey Hajibeyov!
You may wish to visit our travel vlog on YouTube channel
Tags: Azerbaijan , First , World , Persian , Arabic legend , Shusha , Baku Council , Mugham , Opera