Azerbaijan national breakfast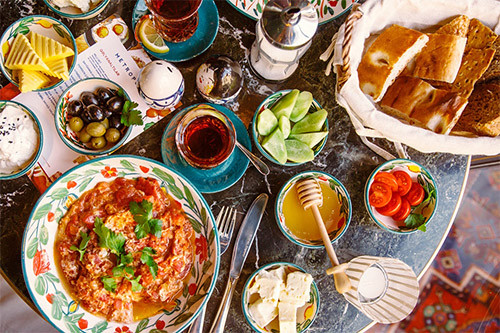 Gourmets, who have chosen Azerbaijan as place for traveling, will return to their homeland with full of positive expressions, recovered a couple of kilos and with a sense of belief that they will return here again. Why? Because Azerbaijan it's not only beautiful, safe and interesting, but also a country of rich cuisine and variety of dishes. All this makes gastronomic tours in Azerbaijan relevant and demanded.
The city of Lankaran is considered as a culinary capital of Azerbaijan and a trip there from the city of Baku can be the biggest event in the life of gourmets, especially lovers of fish dishes. However, in the capital itself, you can spend many days tasting different variations of breakfast, lunch, tea and dinner.
The secret of both refined and unpretentious cuisine is in one principle – is that here everything is always fresh. The natural diversity of the country allows us to grow all kinds of fruits and vegetables and farming in the republic. In addition, the Caspian coast feeds people with fresh fish with all its generosity. Having woken up in his first morning, the guest of Baku can choose between breakfast at the hotel, which is selected for a standard world taste and a traditional Azerbaijani breakfast. As a recommendation, choose the second.
Pomidor-Yumurta (Scranmbled eggs with tomatoes)
The classic omelet, prepared in accordance with all the elements of the French delicacy in Azerbaijan, is certainly appreciated and loved. However, the omelet made with tomatoes is considered as traditional in the nation.
Tomatoes are peeled and completely rushed onto a hot pan, where they are baked for five minutes under on a fire slightly above average. Then oil is added. Azerbaijanis are most fond of using melted cream. Salt, pepper, mix and puff for another three minutes. Then scrambled but not beaten eggs are poured onto the pan. After three minutes on fire without a lid, food is served on the table and immediately eaten.
Shor-Gogal with Tea
Salty bakery from puff pastry is what Shor-Gogal is. Baked with spices and in combination with sweet tea (Shirin tea) – this is one of the best varieties of a breakfast, tasty and high-calorie, which will maintain strength until lunch
Khash
If today is a day off, if you don't drive in the morning, then the Azerbaijani allows himself to have a heavy breakfast. Khash- is beef legs cooked all night. A hot liquid dish full of calcium and protein. Used with dressing of vinegar with garlic. Fifty-hundred grams of cold vodka is usually drunk as a rule, therefore, for those who do not need to go to a job or a date in the morning, this energy breakfast is the best choice.
Have breakfast in Baku with the team of the country's leading tour operator – Azerbaijan Travel International
Tags: lankaran , baku , Shor gogal , Pomidor Yumurta , Tea , Khash , Heavy breakfast , Azerbaijan national breakfast