Azerbaijani wines
visibility 1560 comment 0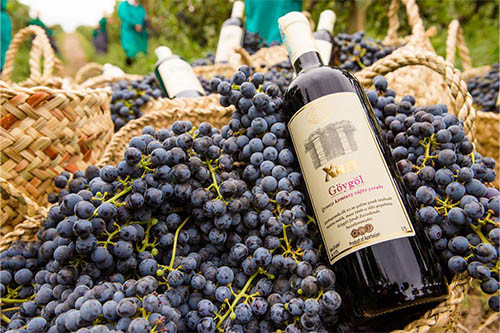 Since immemorial time, large number of wild grapes have been growing on the territory of different regions of Azerbaijan. This created a rich soil for the cultivation of many varieties and the creation of a separate branch of agriculture. AZERBAIJAN WINE has become more than popular since the Soviet period: in the 80-th, our wine varieties were the most exported.
The Shamakhi city has become a kind of viticulture capital. The city of poets is also a city of wine, and wine and poetry are so similar! There are two villages on the territory of Shamakhi district where some of the most valuable varieties of red grapes in the world grow: Madrasah and Meyseri. The first Azerbaijan wine festival was held in the village of Meyseri in 2019, and the wine, which is prepared from grapes growing in the village of Madrasah, is not inferior in quality to well-known French and Italian brands.
After victory in the Karabakh war, the government is going to restore the winery in Aghdam city, which has not functioned for thirty years. Now, production of famous port wine "Agdam", a pink sweet wine of a high degree of strength, which the older generation remembers, will resume. However, the new "Agdam" will be a truly high-quality wine product category, unlike the former Soviet brand.
Recently, the famous pomegranate wine has also become widespread. However, the wine is made exclusively from grapes, and the pomegranate liqueur got this name only because of the sour taste, which makes it look like dry wines.
You can buy wine in Azerbaijan in almost every grocery store. And in addition, there are several retail chains that specialize in local alcohol. There are no restrictions on the time and quantity of products sold, unlike in some countries. You can buy it at any time of the day and in any quantity.
The variety of wine products of Azerbaijan has not been left without attention of our company Azerbaijan Travel International. We organize exclusive wine and gastronomic tours and invite guests of Azerbaijan to take part in them.
Tags: Azerbaijan , Shamakhi , Wild grapes , Azerbaijan Wine , Madrasah , Meyseri , Karabakh war , Agdam Soviet brand , Local Alcohol