Caspian Sea – an inspiration for the poets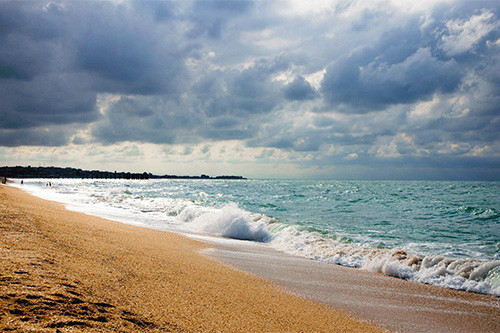 If you decided to choose a tour to Azerbaijan, the meeting with a Caspian is waiting for you. Azerbaijanis call it – Khazar. One of the versions of an etymology of the word "Azerbaijan" is connected to Khazar. Several ethnographers consider "Azerbaijan" as "Khazarbaijan", which is translated as "Land of Caspians". The very first name of this basin was Girkanian sea. These days the village Girkan still exists on Absheron peninsula and is considered as the oldest here (more than five thousand years old).
Khazar – is not a sea. Due to the fact that it is not connected to the World Ocean, it is not considered as a sea from geographical perspective. It is salty lake. However, the size of this lake lets people call it as sea.
Caspian Sea is divided by such countries as, Azerbaijan, Russia, Iran, Kazakhstan and Turkmenistan. We cannot imagine Azerbaijan without a Caspian Sea. The whole eastern coastline (800 km) of Azerbaijan is like bathing in a sea.
The biggest city which is located on a shore of Caspian Sea is – Baku. The main resources of a country such as, oil and gas are being pumped mainly from the offshore area. The First oil pump in the world was constructed in Baku, Azerbaijan (Region Bibi-Heybat) in the middle of 19th century. However, hundred years later century, in a distance of 40 km from the Absheron peninsula, the world's first city on piles- "Oil Stones" was founded, which is considered as the biggest oil platform in the world. The wealth of the largest lake in the world is also represented by the preying of the most valuable fish. Ninety percent of a sturgeon type are being preyed in this waters.
Summer tours of Azerbaijan offer to enjoy the resort rest on the shores of a Caspian Sea. Youth and students took a fancy to the northern shore, the place that is called – Nabran, not far from the border with Russian Federation. The area with is full of the spa, resorts and hotels, where you can spend as budgetary as elite vocations. In addition to Nabran, the entire northern and the southern Absheron has plenty of beaches. One of them is a suburb called Shikhov – at the service of those who chose a trip to Azerbaijan for the tan, lazy daytime bliss, fish restaurants and noisy night beach parties.
One of the leading tour operators of Azerbaijan – Azerbaijan Travel International invites you to be our guests. Following the below links you will appear in the company of real Caspians. You will feel yourself better than at home – on the western shore of the largest lake of a planet Earth.
Tags: baku , Azerbaijan , Caspian sea , Absheron Peninsula , Beach , Khazar , Oil stones , Nabran