Lahij – village of masters
visibility 1006 comment 0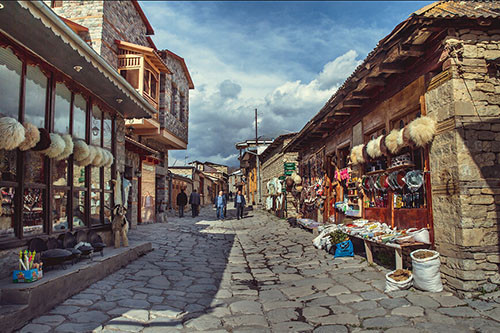 The picturesque Lahij village is located on the Asian slopes of the Great Caucasus mountains in Ismayilli district of Azerbaijan Republic. Ismayilli districtit is a kind of symbol of multinational nature of Azerbaijanis – there are many villages in which Azerbaijanis of various ethnic origins live. For example, Kurbanefendi village is inhabited by Azerbaijanis of Lezgian origin, and in Ivanovka village there are Molokans – Azerbaijanis of Russian origin.
In Lahij village live the Tats, a subethnos of the Persian nation. According to legend, the village was founded on the burial place of the former Persian Shah Kei Khosrow. He ruled a thousand years ago and was known for his short temper, which once let him down. In a dispute with the ruler of a neighboring principality, in a dispute in which Kay-Khosrow was wrong, he showed unrighteous anger and killed his interlocutor. This big mistake sobered the ruler's rage and, realizing that he had committed a crime, he bitterly repented.
The shah's loyal confidants urged him to come to his senses, gather himself and, assuming that he should expect revenge for his mistake, flee the country, hiding where no one can find him. Kay-Khosrow heeded an advice. Having urgently left his palace and abandoned power, he fled to the North Caucasus in the Niyaz Mountains to the banks of the Girdiman River. Here he spent the rest of his life in seclusion and penitential prayers. His faithful servants, who did not leave him until his death, modestly buried him, but did not leave, but remained on new lands, founding a new settlement. It became the village of Lahij.
The Persians brought with them the art of smelting and processing copper and iron and began to develop it. Over time, by the XVII-XVIII centuries Lahij has become one of the centers of the Caucasus for this craft. And it remains so till this day.
Now Lahij is known for its historical quarters Baadvan, Arakird and Zavaro. Houses made of river stone built along paved streets have been preserved since the beginning of the XIX century. They represent an example of ant seismic technology in architecture and construction. As a result, despite the frequent tremors in these places, the blocks are in excellent condition and are residential. Partly due to their attractiveness, which carries a certain romanticism, Lahij is protected by Government as a historical reserve.
Together with representatives of Azerbaijan Travel International, guests of our country have the opportunity to visit Lahij village as part of an excursion.
Tags: Greater Caucasus , Persian , North Caucasus , Lahij village , Ismayilli district , Lezgian origin , Molokans