Shaki City: Khan's Palace
visibility 1680 comment 0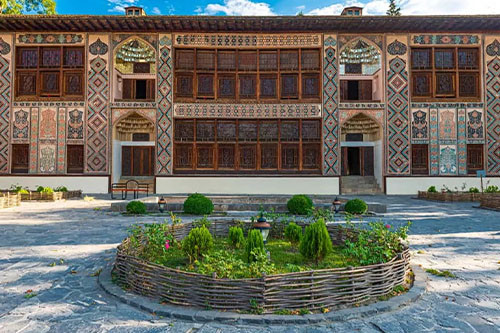 Shaki city is located in the north of Azerbaijan, on the Asian slope of Caucasus mountains. History of the city is very ancient and goes back to the middle of the first millennium BC. Sheki belonged to various state entities: Caucasian Albania, the Arab Caliphate, Shirvan. However, the main historical monuments of the city belong to one of the late periods – to the era of the Shaki Khanate, the XVIII-IXX centuries AD. The most prominent of all the cultural heritage of those times is the Khan's Palace.
History
In 1760, the khan of Sheki, Muhammad Hussein Khan, ordered to erect a fortress in the mountainous part of Sheki. Subsequently, in 1765, a palace was built inside this fortress. It becomes the residence of the khan and remains so for all the successors of the power of the Sheki Khanate.
In 1819, Sheki lost its status as an absolute monarchy and joined the Russian Empire. However, the family of the last Sheki Khan Ismail lived in the palace until 1827-1828. In those years, Sheki had already completely passed under the rule of Tsar Nicholay I and the descendants of the khans left this place. Nevertheless, one of the grandsons of the last khan, the Azerbaijani poet Kerim Fatehi initiated the restoration of the palace in the middle of the IXX century.
Since the late 20s, the Palace complex has become a citadel of the Russian government. Here are the treasury, the prison, the barracks and the cathedral church. The complex is visited by many famous travelers, such as General Nikolai Rayevsky, writers Leo Tolstoy and Alexander Dumas.
In the middle of the XX century all the historical quarters of Sheki, which include the Khan's Fortress, are declared a protected architectural zone by the Soviet authorities and the palace becomes a museum.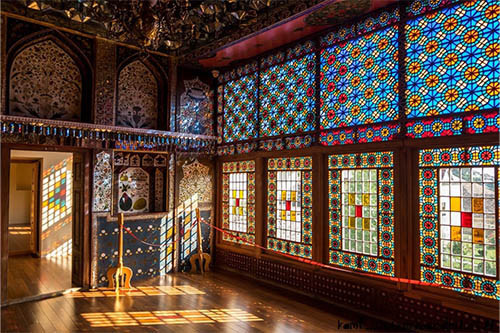 The architectural style of Sheki Khan's Palace is an example of Persian architecture with "modern" elements characteristic of the buildings of the IXX century. The layout of the rooms is completely identical on both tiers of the building.
The peculiarity of the palace is in its scenery. It is represented by stained glass facades made of glass mosaics and frescoes on the inner walls of the palace. Multi-colored glass mosaic is a miniature geometrically proportional patterns in a frame made of openwork wooden carvings (traditional Azerbaijani technique "shebeke"). The frescoes on the walls of all the halls are not repetitive landscapes, fantastic plots, battle scenes and hunting scenes.
In 2019, the Palace of the Sheki Khans, and with it the entire historical part of the Sheki "Yukhary Bash" are included in the list of treasures protected by the international organization UNESCO and is the heritage of the whole planet.
As part of the tour Gabala and Sheki (1 night, 2 days) guests from other countries who have chosen to travel to Azerbaijan with tour operator Azerbaijan Travel International will get acquainted with the Khan's Palace as closely as possible.
Tags: Shaki , Azerbaijan , UNESCO , Arab Caliphate , Shirvan state , Caucasus mountains , Albania , Shaki Khans , Nikolai Rayevsky , Leo Tolstoy , Persian Architecture