Shirvanshah Palace
visibility 1954 comment 0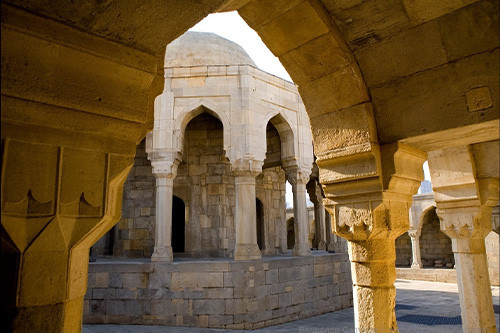 The route of the popular walking "Old City" that is presented by the tour operator Azerbaijan Travel International passes next to the majestic Palace of Shirvanshah, whose history dates to the Middle Ages.
1300 years ago, Arabs came to Azerbaijan. They brought with them religion Islam and its prophet, their traditions, their language, and form of government, which was called the Islamic Arab Caliphate. And Azerbaijan has become an emirate of this state.
Several centuries later, the descendants of those Arab rulers decided to secede and create an independent country. The rule of the caliphate did not prevent this and Shirvan state was created after the name of a large Azerbaijani territory from the city of Derbent to the Kur River. The summer residence of Shirvan's rulers, the Shirvanshahs', was in Baku, and Shamakhi city was their capital.
But five hundred years ago, a natural disaster occurred – because of an earthquake, Shamakhi was literally destroyed to the ground and the capital was moved to Baku, to a summer residence. Since then, Baku has been the capital of Azerbaijan to this day.
The architectural complex of the residence has been preserved to this day, is one of the iconic places of Old City and is known as the Palace of Shirvanshahs.
It was built in the XIII-XIV centuries AD during the reign of Shirvanshah Khalilullah I. Subsequently, the power of different dynasties of different states was replaced in it. The Safavids replaced the Shirvanshahs, the Ottomans replaced the Safavids, after the Afsharids, the Qajars, and finally the Romanov governors – the tsars of the Russian Empire. However, all the new rulers of Shirvanshahs' Palace brought little of their own to this architectural complex – all its main elements were created by order of Shirvan ruler.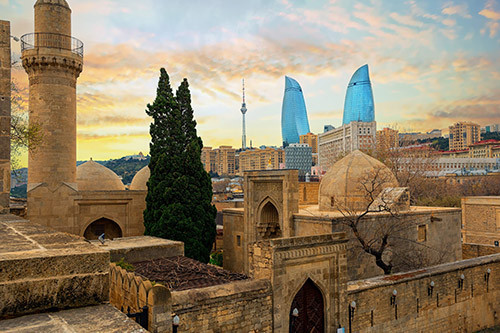 The architectural style is unique and widespread only in Azerbaijan. It is called Shirvan-Absheron. External colonnades, faceted domed roofs, narrow spiral staircases of the interior are characteristic features of this architectural school.
The Palace complex included shah's palace-residence, two mosques, a Divan assembly hall, hamam (national bath house), an underground reservoir, shahs' tomb and the mausoleum of Sufi master Seyid Yahya. The complex is bounded by a wall, on the eastern side of which stands a Portal – the ceremonial entrance to the Palace territory.
Only the bathhouse and one of the mosques were destroyed by the time of the changes. The remaining attributes of the complex have been restored, are in excellent condition and are protected by the international organization UNESCO as an element of World Heritage.
You can visit Shirvanshah Palace in our Baku Old City Tour
You may also wish to visit our travel vlog on YouTube channel
Tags: Mosques , Shamakhi , Old City , UNESCO , Russian Empire , Middle Ages , Arab Caliphate , Shirvan state , Kur river , Safavids , Romanov governors , Shirvanshah Palace